Superb Sportline
Sports Sedan
The new Superb Sportline Sports sedan renown for it's quality build and reliability, a Sports sedan that packs a punch with a turbo charged engine and equipped with the latest technology.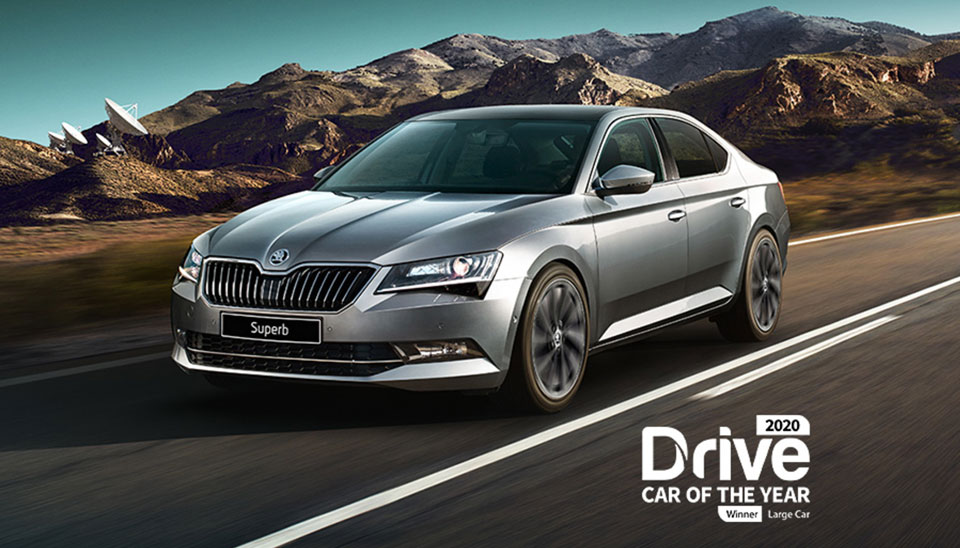 Award Winning
Drive Large Car of The Year Award 2020
There's no wonder the SUPERB won Drive Large Car of the Year 2020 with it's back seat and boot space that leaves many full-sized SUVs for dead.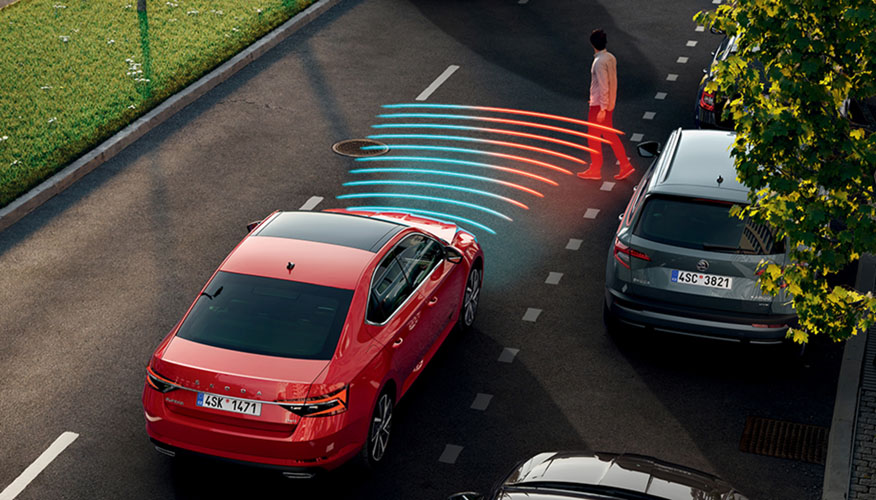 Safety
Front Assist with Predictive Pedestrian
A car that senses danger ahead? Now that's clever. Front Assist with Predictive Pedestrian Protection and City Emergency Brake◊ uses a radar sensor to monitor the risks in front of you, alert you of any hazards, and will even brake on its own to help avoid a collision.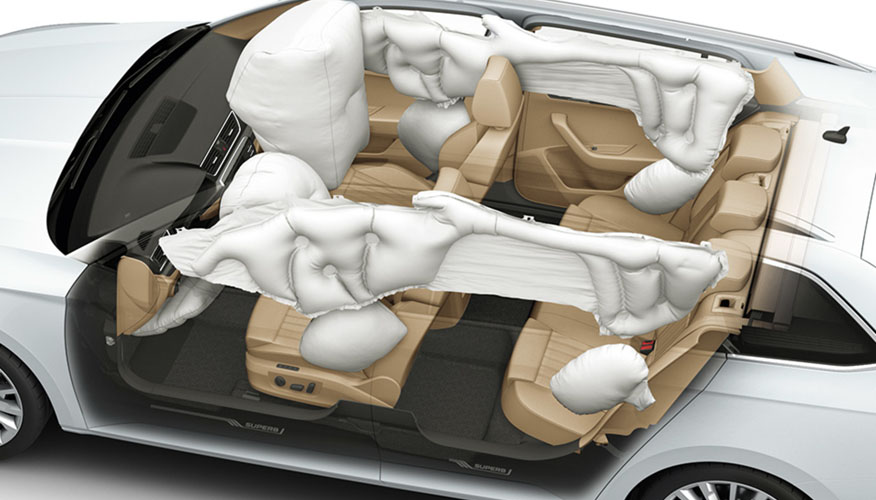 Safety
NINE AIRBAGS
We hope you never need the nine airbags that come standard in every SUPERB SPORTLINE sports sedan. Located at the front, front side, rear side, curtain, and driver's knee area, they help protect you and your loved ones in the event of a collision.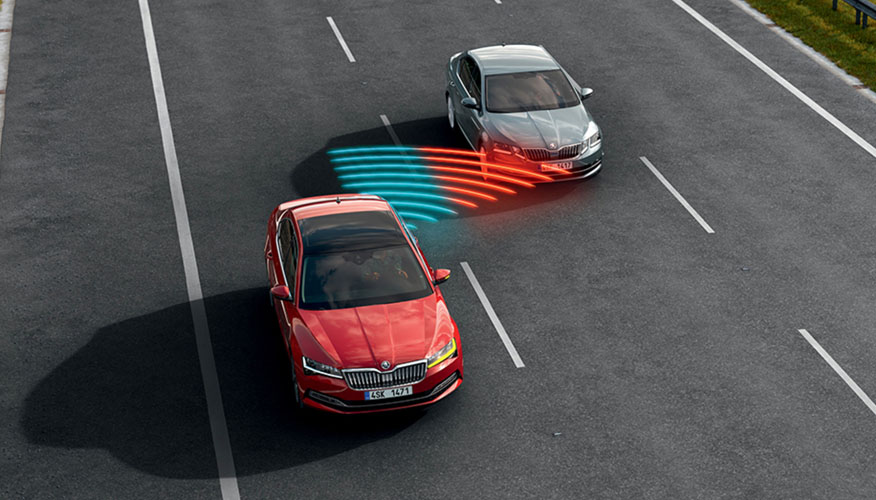 Safety
SIDE ASSIST – BLIND SPOT DETECTION
Here's something you might not have seen coming. Side Assist (Blind Spot Detection)◊ helps you change lanes safely by letting you know when a vehicle is in your blind spot. If so, an LED symbol in the side mirror will light up, and start flashing once you indicate. It also takes corrective action if there is a car in your blind spot.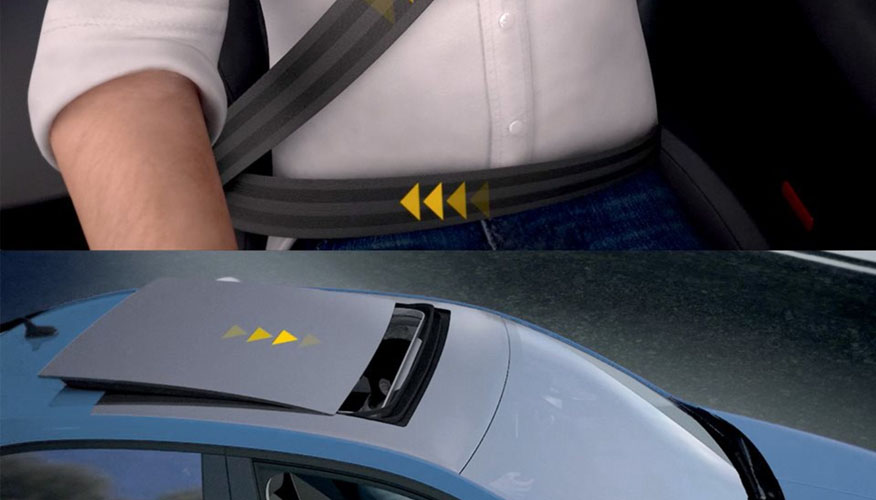 Safety
PASSENGER PROTECT ASSIST
A car that braces for impact? That's seriously smart. Passenger Protect Assist uses information from the car's braking and electronic system to prepare the vehicle for impact when there is a high chance of a collision. In such an event, the front seat belts will tighten and the sunroof (if equipped) and windows will close to keep you in the best position for airbag deployment and prevent items flying into the car.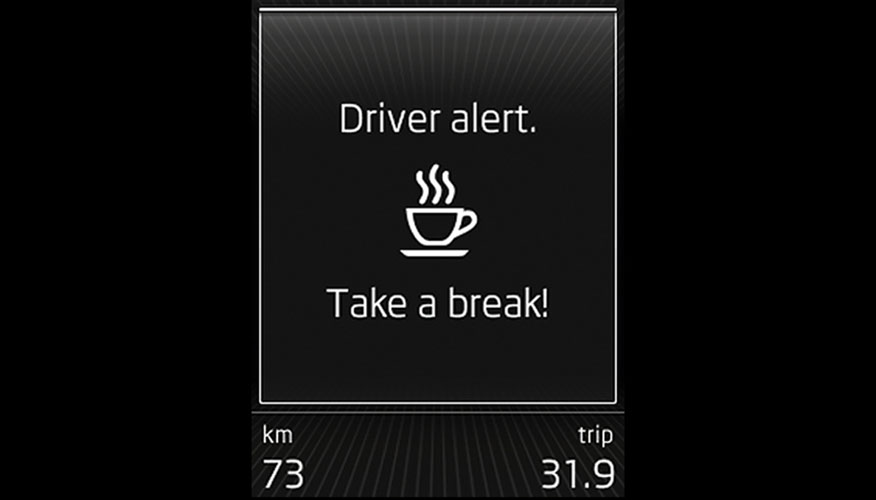 Safety
Fatigue Detection
Our clever engineers have developed a hands-on approach to help identify driver fatigue. Fatigue Detection+ monitors your movement through the steering wheel. If it senses signs of fatigue, it triggers an audible and visual warning alerting you that you need to stop and rest.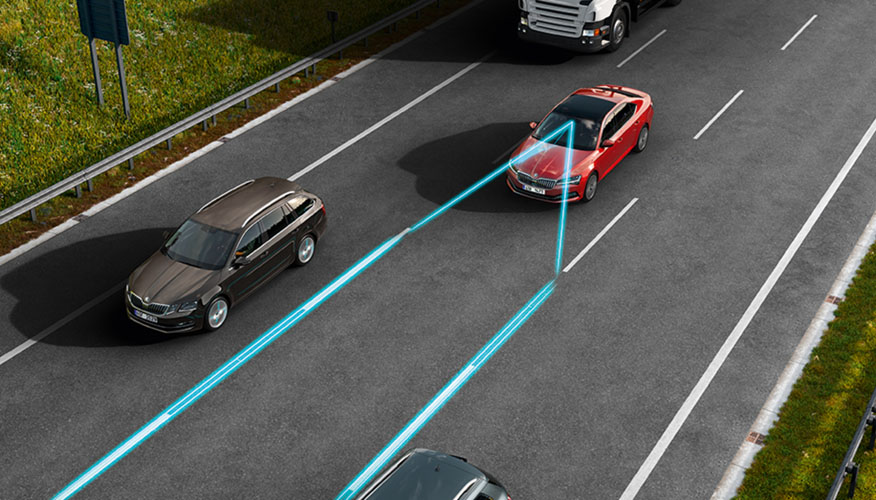 Safety
Lane Assist
To veer is human. Lane Assist◊ uses a camera positioned within the rear-view mirror unit to actively recognise lane markings and, if you begin to stray, take corrective action to gently steer you back on course. It will also send audible and visual messages if you need to take additional action.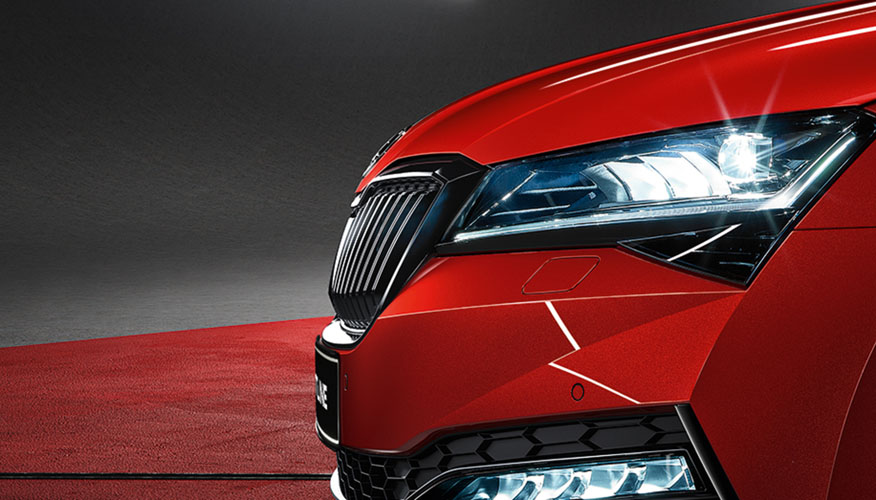 Safety
Matrix Headlights
SUPERB SPORTLINE now comes with new Full LED Matrix adaptive headlights. These allow for the automatic "masking" of oncoming vehicles and vehicles ahead in full beam mode. LED Matrix adaptive lighting fades out other illuminated road users and prevent glare from objects with higher luminosity such as signs and other reflective surfaces by gradually illuminating and switching off 14 LED chips in each headlight.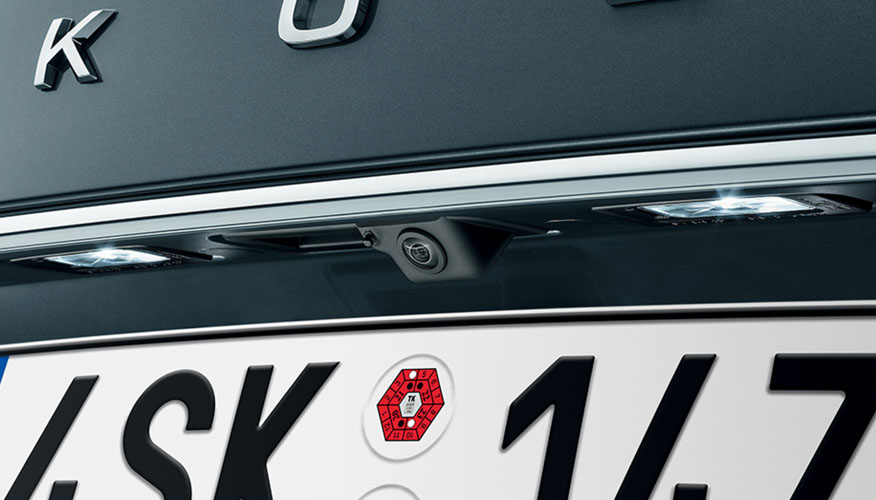 Safety
REAR VIEW CAMERA
Some forward thinking for when you're going backwards. A rear view camera◊, helps you back out of your driveway with peace of mind and tackle those tricky reverse parks with confidence.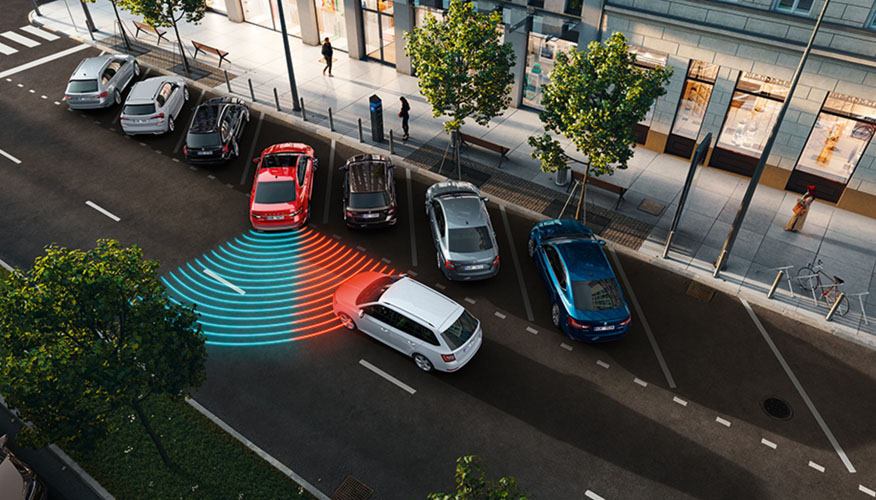 Safety
REAR TRAFFIC ALERT
Here's a feature that won't surprise you. When you're reversing, Rear Traffic Alert◊ recognises vehicles approaching from the sides and alerts you with an acoustic signal. If necessary, the brakes are automatically applied to help prevent any collision.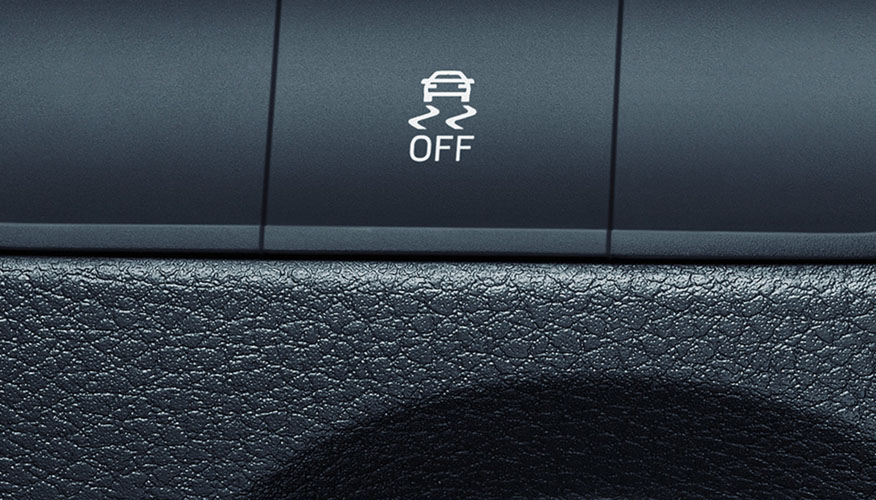 Safety
ELECTRONIC STABILITY CONTROL (ESC)
The last thing we want to happen to you immediately after an accident — is another accident. Electronic Stability Control (ESC) helps you maintain control of the car if it begins skidding, using ABS (Anti-lock Braking System), ASR (Anti-Slip Regulation) and other special sensors to prevent slipping or locking the wheels.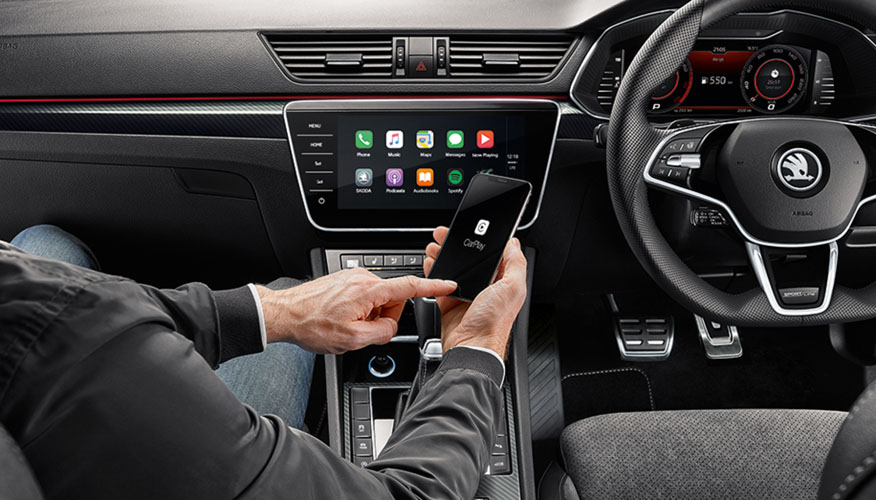 Technology
Wireless Smartphone Connectivity
Combining our smart car with your smartphone was always going to be a good idea. SUPERB featuring wireless Apple CarPlay® and wireless Android Auto™+ seamlessly connects compatible apps from your smartphone to your SKODA. So, whether you want to listen to music or receive turn-by-turn directions, you can do it all without touching your phone.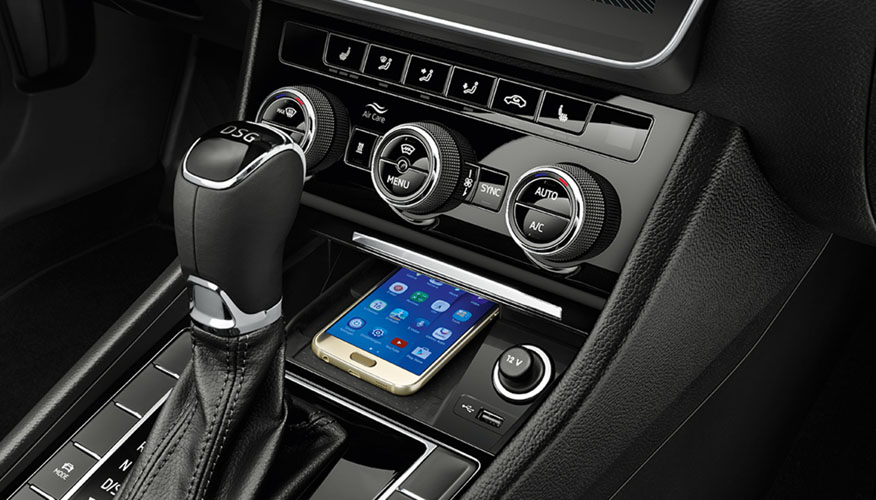 Technology
WIRELESS CHARGING
No cables, no worries. Now with the Qi Wireless charging in the centre console, you'll never get caught with a flat smartphone. Available with standard equipment.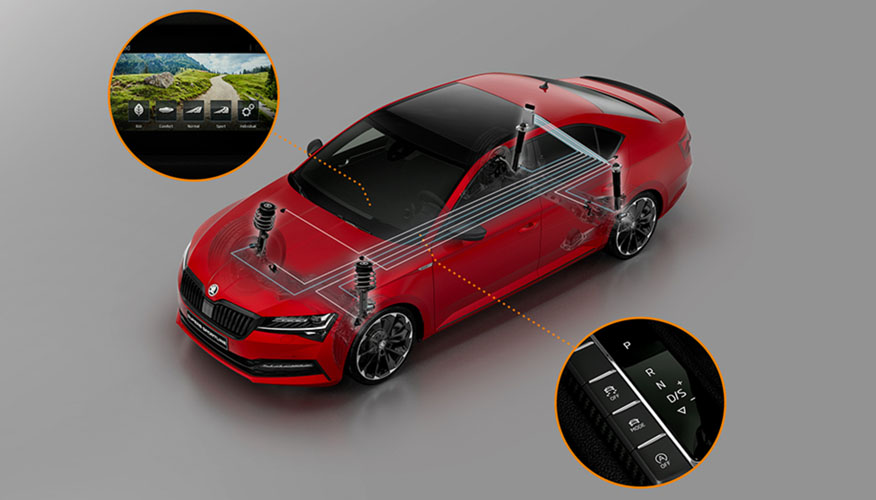 Technology
ADAPTIVE CHASSIS CONTROL
As you get to know your SUPERB SPORTLINE, it gets to know you too. Adaptive Chassis Control continuously evaluates and responds to various driving situations, adapting to decreases in speed and varying steering characteristics across five driving modes – Normal, Comfort, Eco, Sport and Individual – tailored to your specific requirements.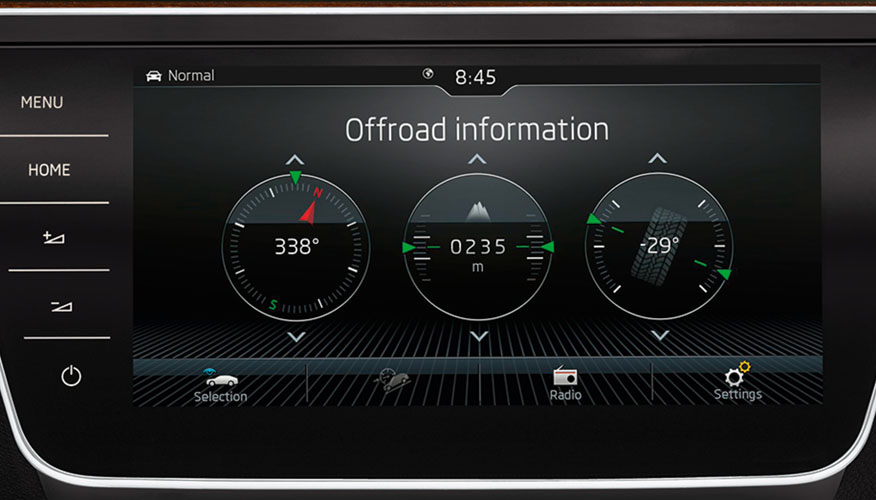 Technology
Off-Road Mode
With intelligent Off-Road Mode system, which operates at speeds of us to 30km.h, you can handle difficult terrains. It is designed to adjust the characteristics of the engine, electronic assistants and stability control systems.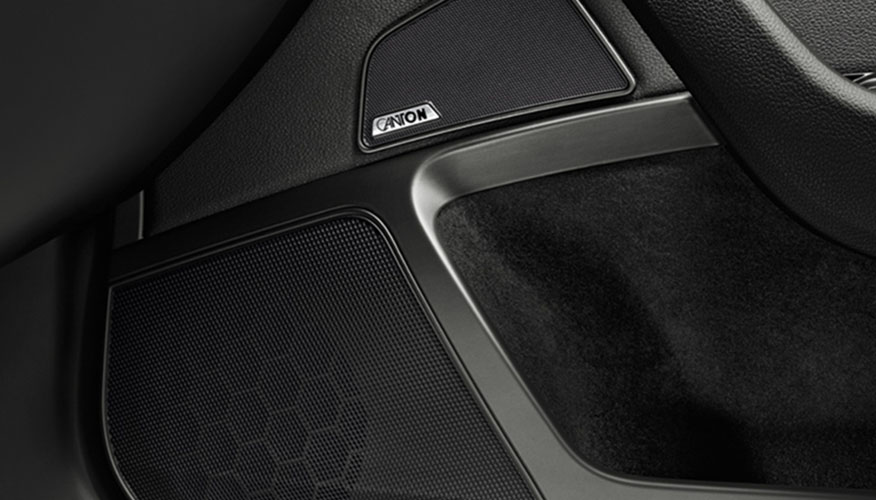 Technology
CANTON SOUND SYSTEM
You know what else sounds great? The Canton Sound System delivers 610W output across 12 high-performance speakers: 10 in the side doors, one centrally located in the dashboard, and a sub-woofer in the boot.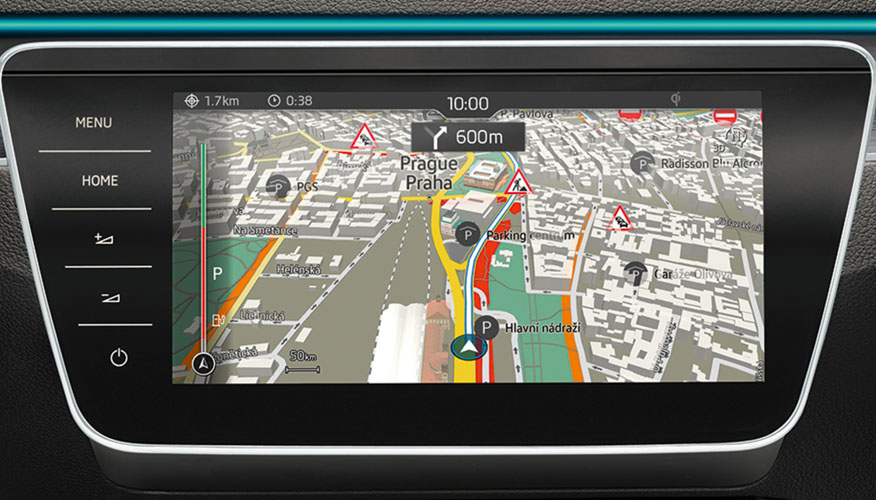 Technology
COLUMBUS NAVIGATION
Enjoy the convenience of having the stereo, Columbus Navigation System and trip computer all in one system. To make things even easier, the proximity sensor lets the touchscreen know when a hand is moving towards it and automatically brings up the function buttons, while intuitive swiping and pinching make it easy to move around menus and maps.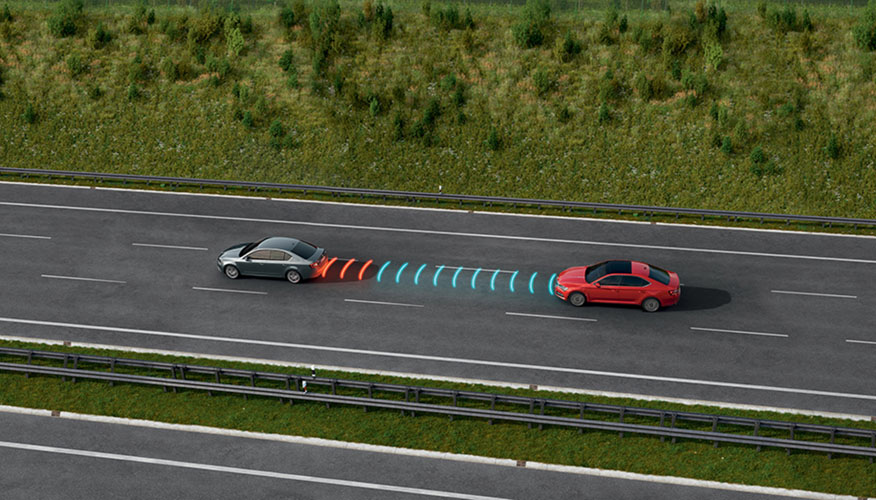 Technology
ADAPTIVE CRUISE CONTROL
Just when you thought cruise control couldn't get any smarter. Adaptive Cruise Control (ACC)◊ features a radar sensor on the front grille, allowing it to automatically brake and accelerate to a speed and distance set by you. Did we mention it comes standard?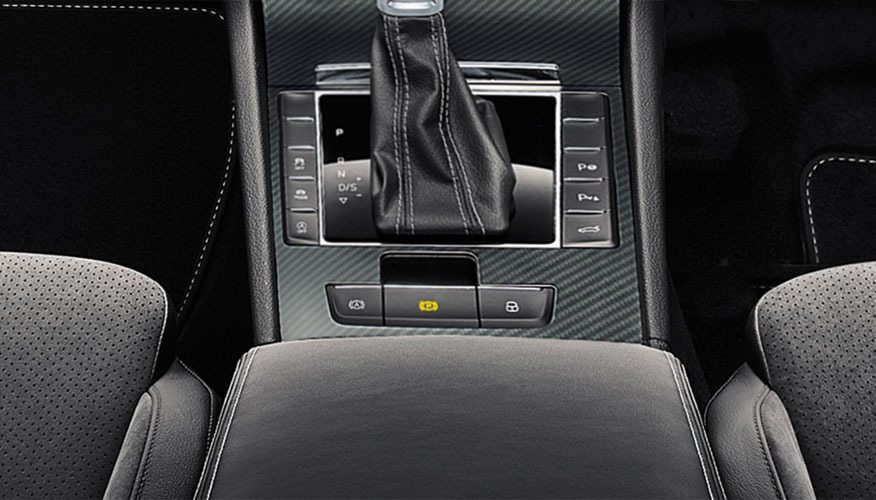 Technology
ELECTRONIC PARKING BRAKE
You won't be the first person to search for the parking brake. The SUPERB SPORTLINE sports sedan is the first ŠKODA to feature an electronic version — increasing space, safety, and comfort. The Auto Hold function prevents the vehicle from rolling away at standstill or when pulling away, without you having to touch the brakes.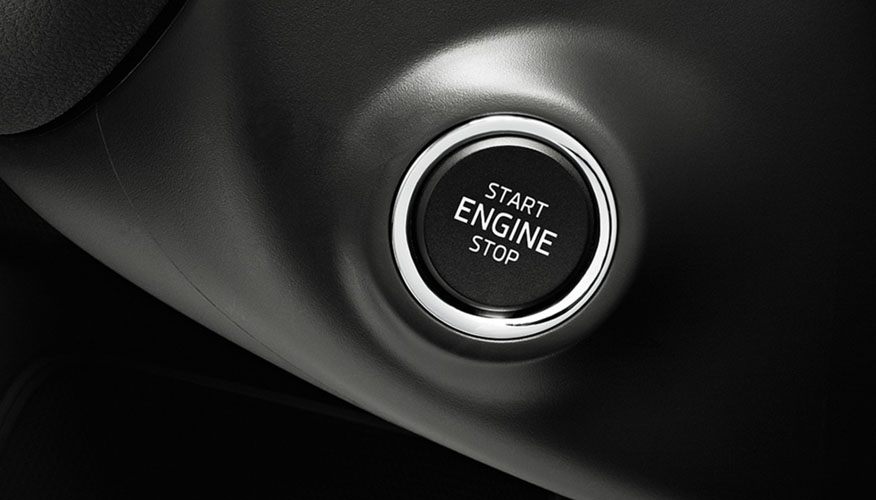 Technology
KESSY – ADVANCED KEYLESS ENTRY INCLUDING SMART START
A car that gets the door for you? Now that's service. KESSY can be added so you can lock and unlock your car, and start and stop the engine without having to insert or even handle the key.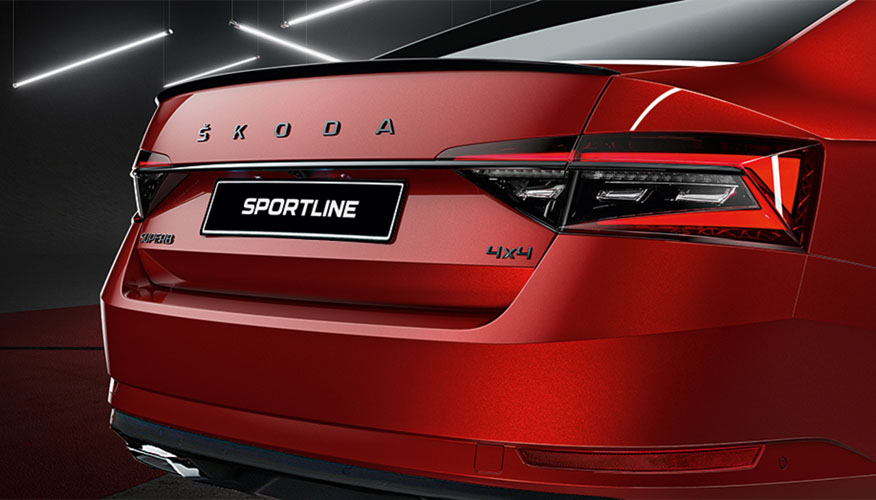 Technology
FRONT AND REAR PARKING SENSORS
It's always a good idea to build in a little buffer. The new surround parking sensors complement the Park Assist◊ and work together with all of the infotainment systems.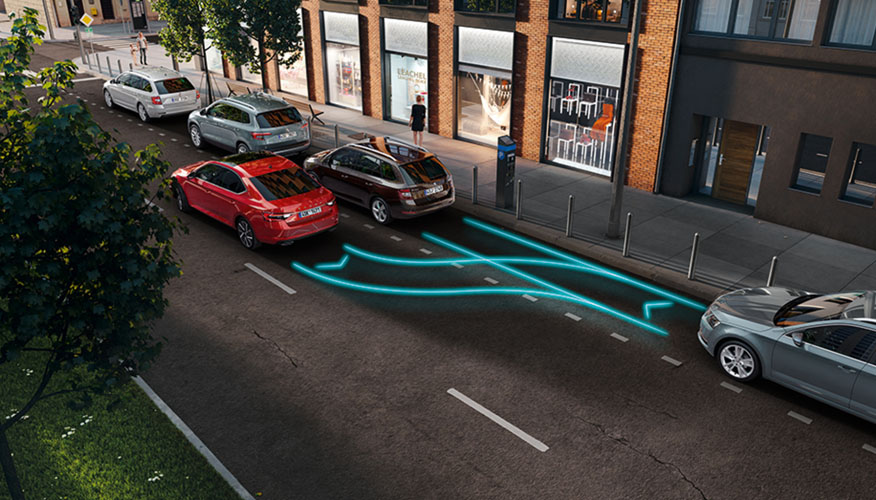 Technology
AUTOMATIC PARKING ASSIST
Parking doesn't get any easier than this. With a press of a button, Automatic Parking Assist◊ will begin searching for a parking space in a line of cars or other obstacles. When found, the car will steer itself into the space while you simply control the pedals. How's that for assistance?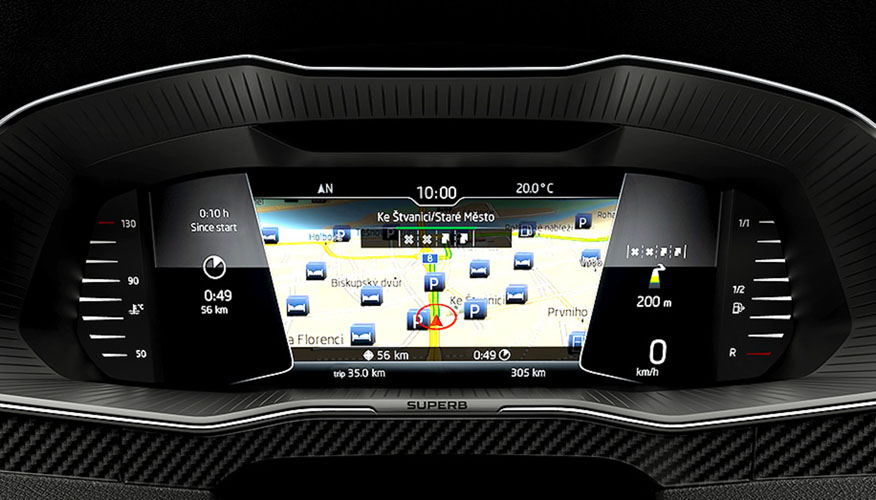 Technology
Virtual Cockpit
All that important information, which used to be shown on your dashboard gauges, is now brought to life in a dynamic digital display. This driving data includes, speed and fuel readouts – along with more contemporary features, like driver assist and navigation tools.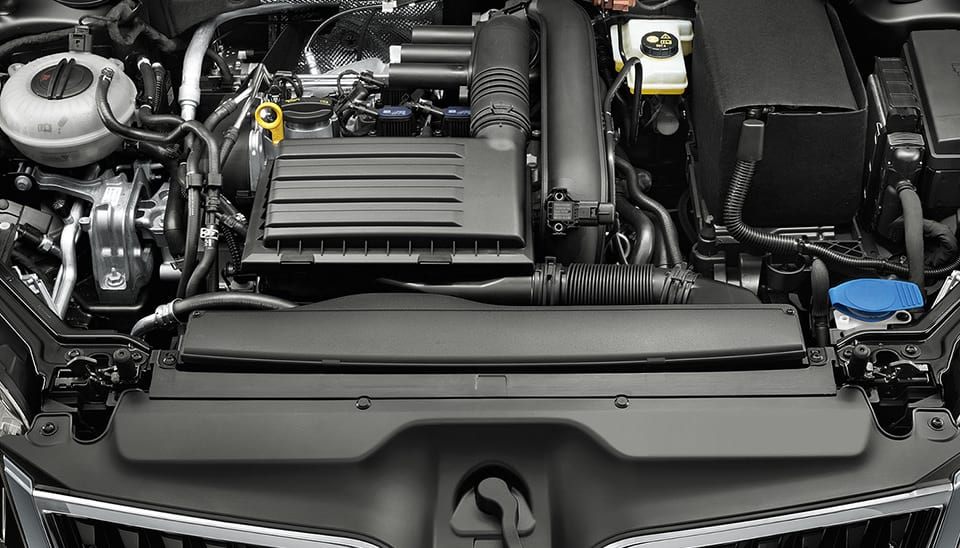 Engine
TSI Engines
Under the hood, we've over delivered. The all-new generation of direct-injection turbocharged engine comprises of the TSI petrol engine or if you need an all-wheel drive, there's the top of the range 206kW TSI petrol engine.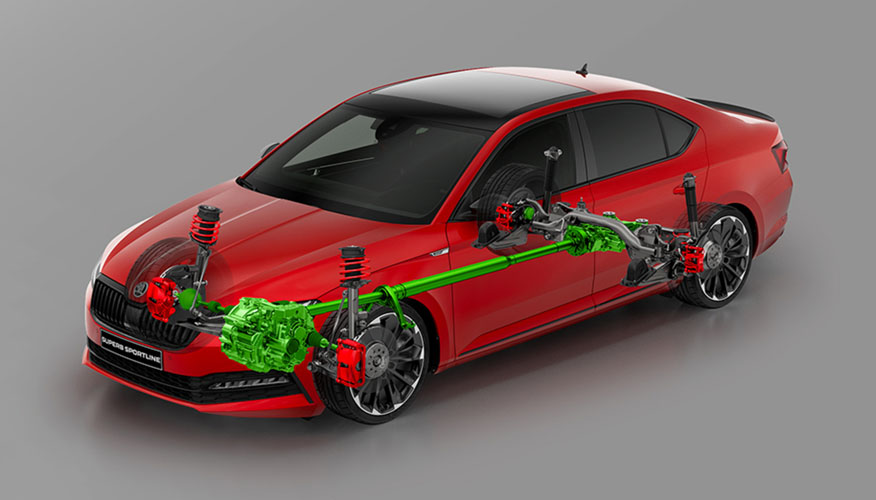 Engine
All-Wheel Drive
The SUPERB SPORTLINE is a bit of a control freak. The 206TSI is fitted with state-of-the-art all-wheel drive, guaranteeing optimal driving dynamics, high levels of active safety and economical fuel consumption. Torque distribution to all four wheels is automatic and always depends on the driving environment.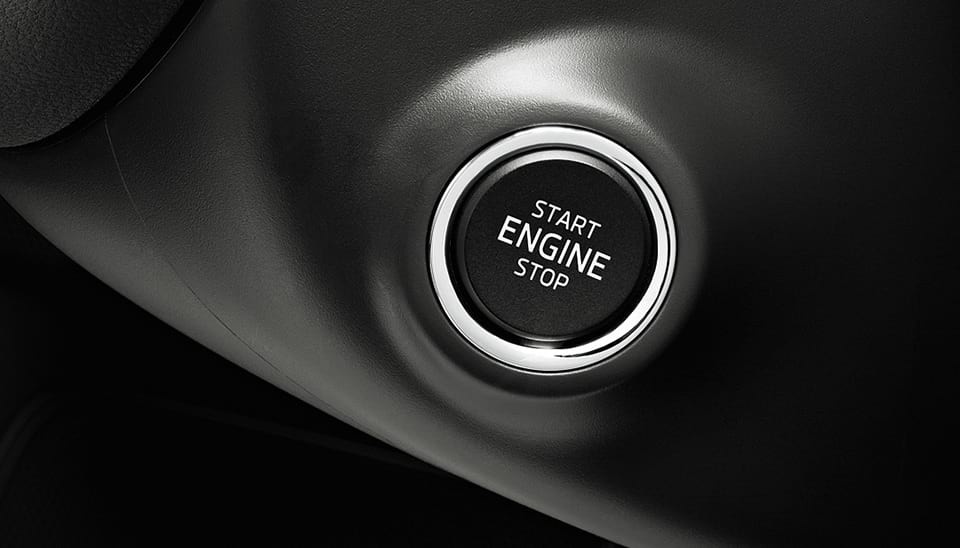 Engine
Fuel Efficiency & Start-Stop System
The only area we've cut back on. The fuel consumption and low CO2 emissions of the new SUPERB SPORTLINE outperform its competitors. All engines feature Green Tech as standard, including a Start-Stop System and brake energy recovery, saving fuel in city driving.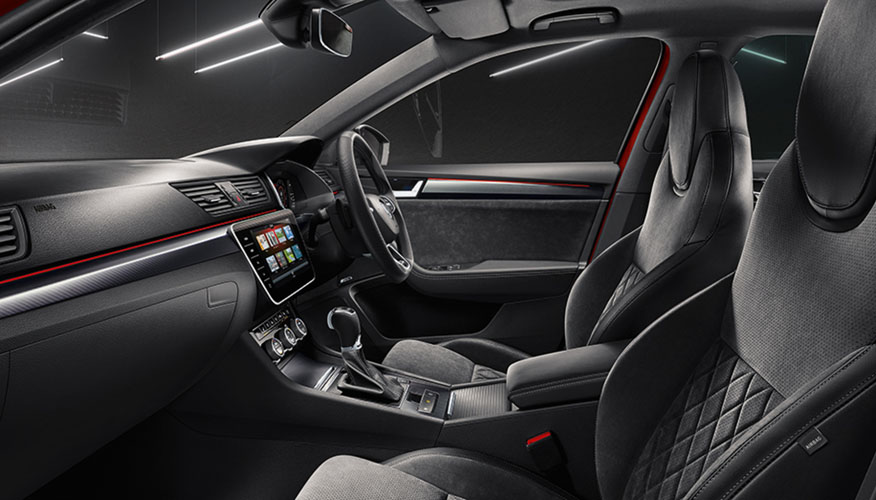 Comfort
AN UPPER-CLASS LEVEL OF SPACE
Sometimes you just need your space. The SUPERB SPORTLINE sports sedan offers ample room in all directions for you and your passengers. Specifically, the interior offers 1507mm in width and 991mm of headroom for the driver and front passenger.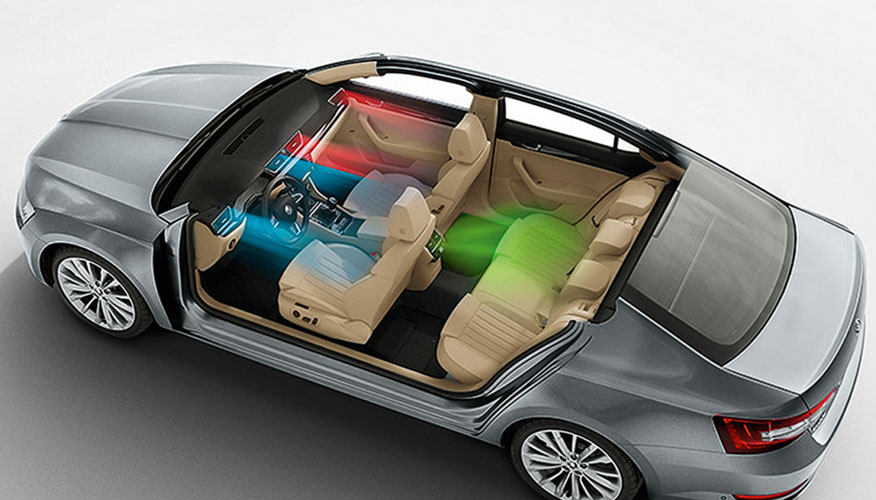 Comfort
THREE-ZONE AIR CONDITIONING
When it comes to air conditioning, it's each to their own. Three-zone Climatronic air-conditioning allows the driver, front passenger and rear passengers to set their own preferred temperature independently. At the same time, an enhanced air filtration system improves cabin air quality, reducing dust and pollen.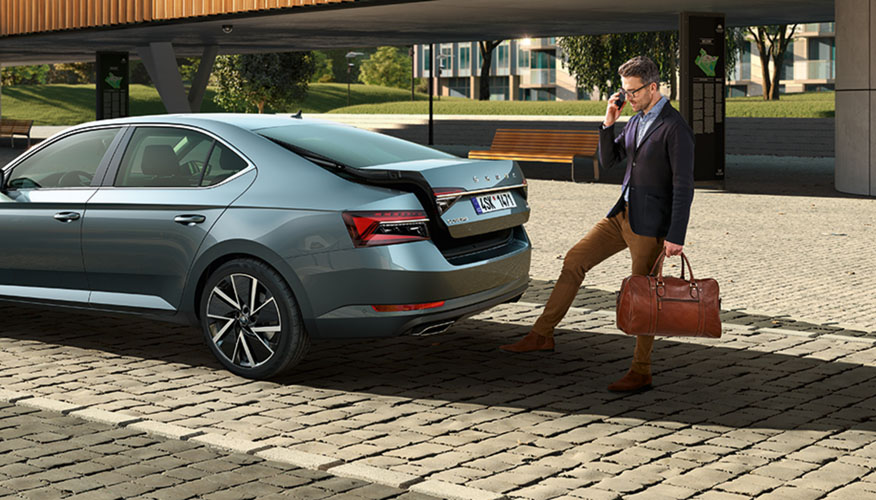 Comfort
VIRTUAL PEDAL
We've turned the boot door into a hands-free device. The new Virtual Pedal** lets you open and close the boot simply by kicking your foot underneath the rear bumper — convenient for when your hands are tied with loads of shopping.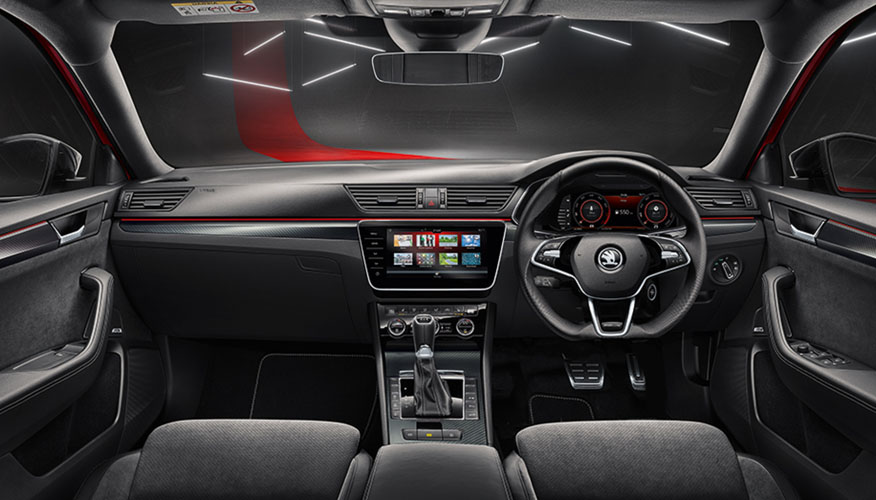 Comfort
ALCANTARA® LEATHER APPOINTED UPHOLSTERY
It shouldn't take you long to get comfortable with the sports style interior. Settle into Alcantara® leather-appointed sports seat upholstery in black°, featured as standard across the SUPERB range.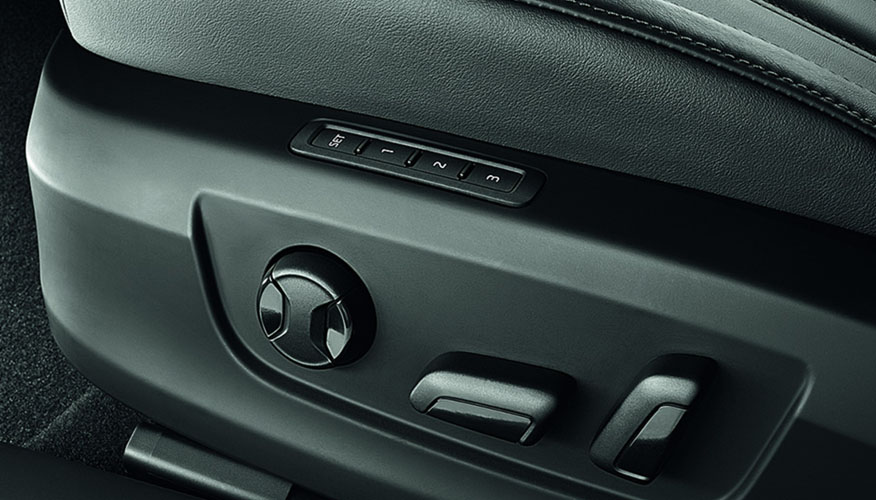 Comfort
ELECTRICALLY-ADJUSTABLE DRIVER SEAT
The SUPERB SPORTLINE will even get your seat for you. Each is equipped with electrically-adjustable driver seat with memory function — storing three separate positions of the seat and external mirrors. An electrically adjustable front passenger seat is available in the optional Comfort Pack.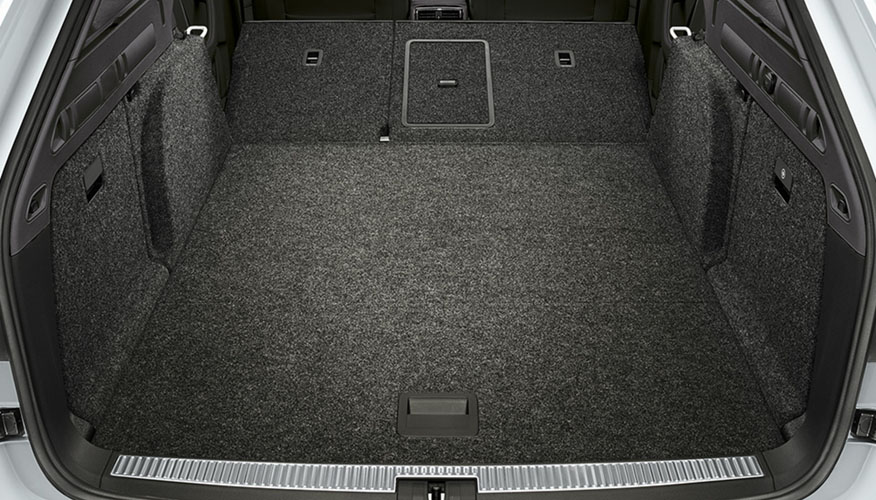 Comfort
LUGGAGE SPACE
We've packed a lot of clever features into the SUPERB SPORTLINE sports sedan, but still left plenty of room for your luggage. In fact, at 625 litres, the luggage compartment is top of its class.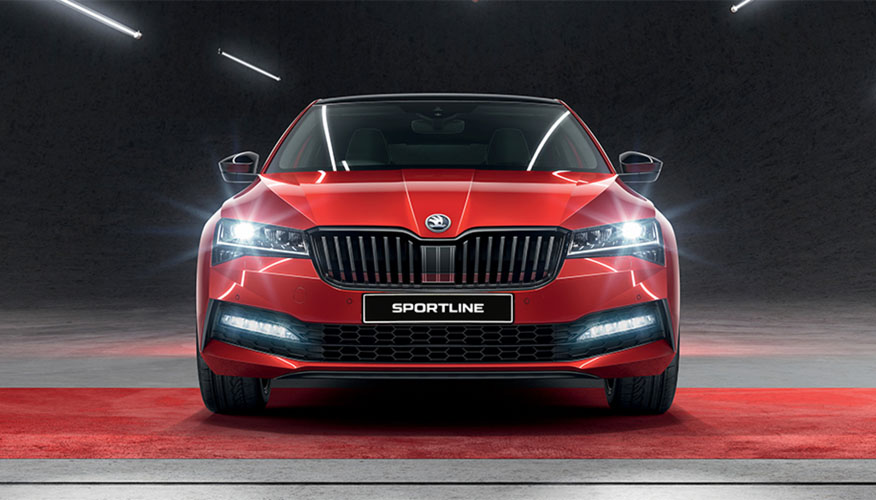 Design
EXTERIOR DESIGN FEATURES
We hope you like attention. The SUPERB SPORTLINE is instantly recognisable by its black design features including darkened fog lights, glossy black side door strips and black trim on the lower grille. Its sporty aesthetics include 19" Vega anthracite alloy wheels, black rear diffuser with twin chrome exhaust, and glossy black rear spoiler.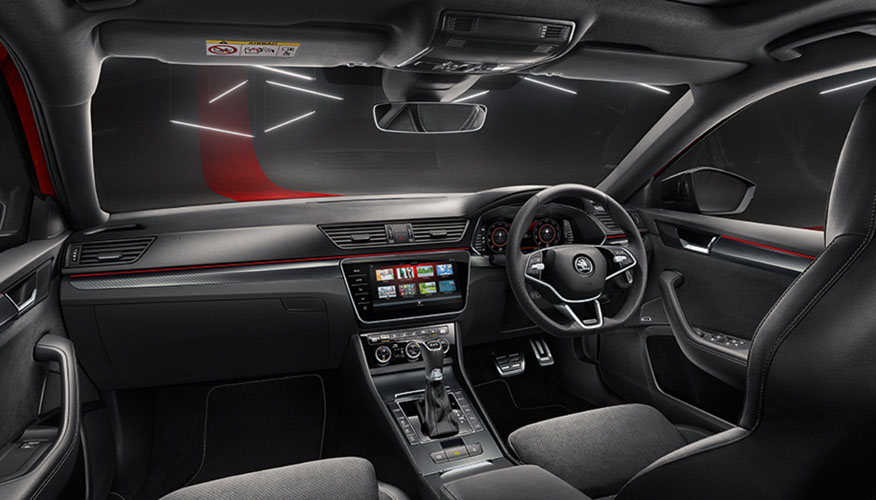 Design
INTERIOR SPORTS STYLING
We've kept some things just for you. Enjoy a carbon décor, Alcantara® leather sports seats°, and three-spoke multi-function sports steering wheel. Set the ambient lighting with fibre optic elements and 10 different colour LED options — illuminating the dashboard, door rims, door handles, seats and foot wells.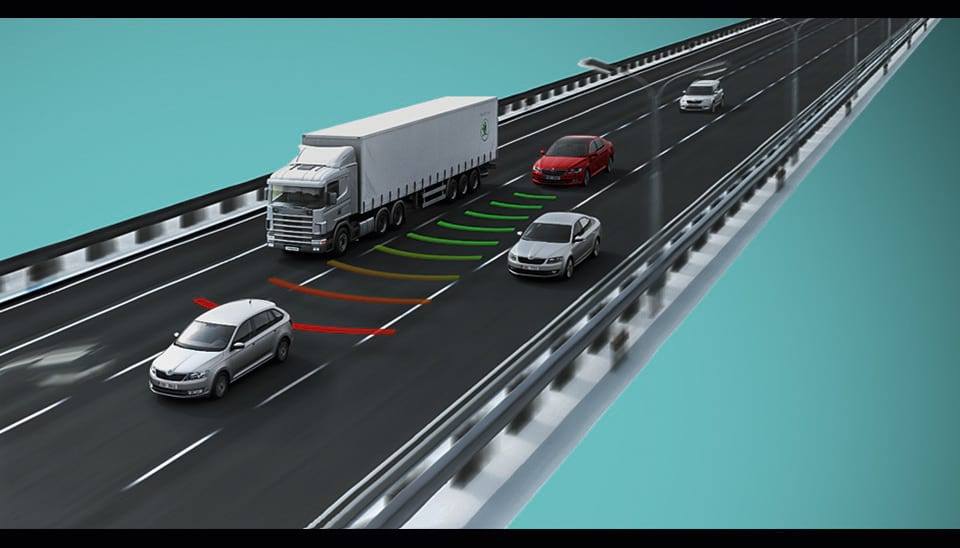 Advanced driver assistant systems
Adaptive Cruise Control
We've taken the stress out of driving in traffic. Adaptive Cruise Control (ACC)◊, standard across the SUPERB range, automatically maintains a speed and distance set by you — ensuring a safe buffer between you and the car in front. Clever, isn't it? ◊Safety technologies are not a substitute for the driver's responsibility of the vehicle.
Simply Clever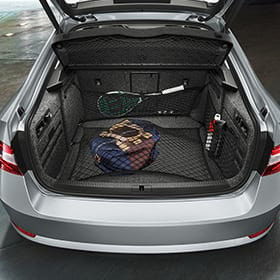 Net System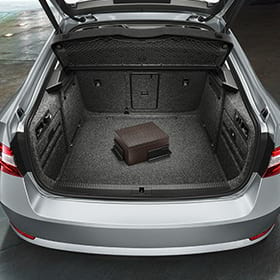 Cargos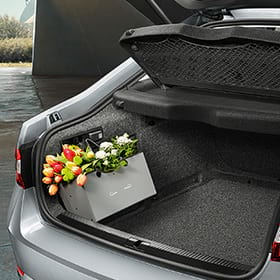 Luggage Hooks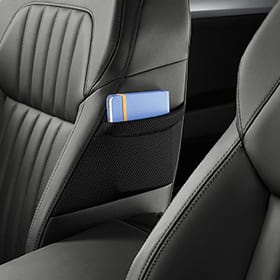 Handy Pockets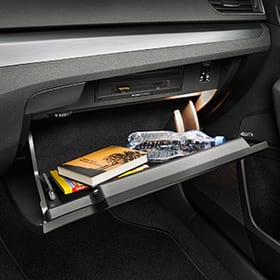 Illuminated, Air Conditioned Glove Box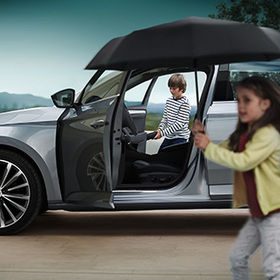 Umbrella In Doors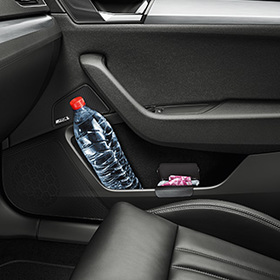 Waste Bin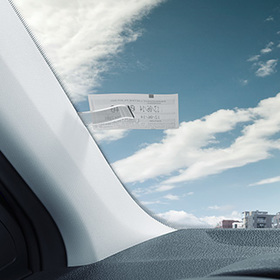 Ticket Holder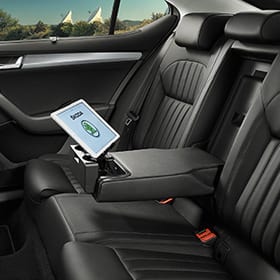 Tablet Holder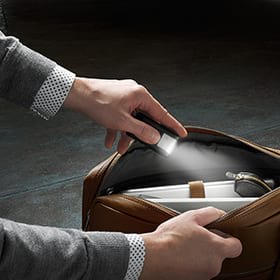 Removable LED Torch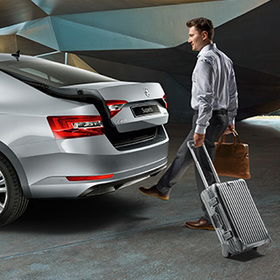 Virtual Pedal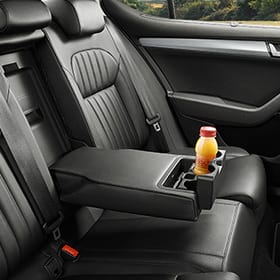 Bottle Holder