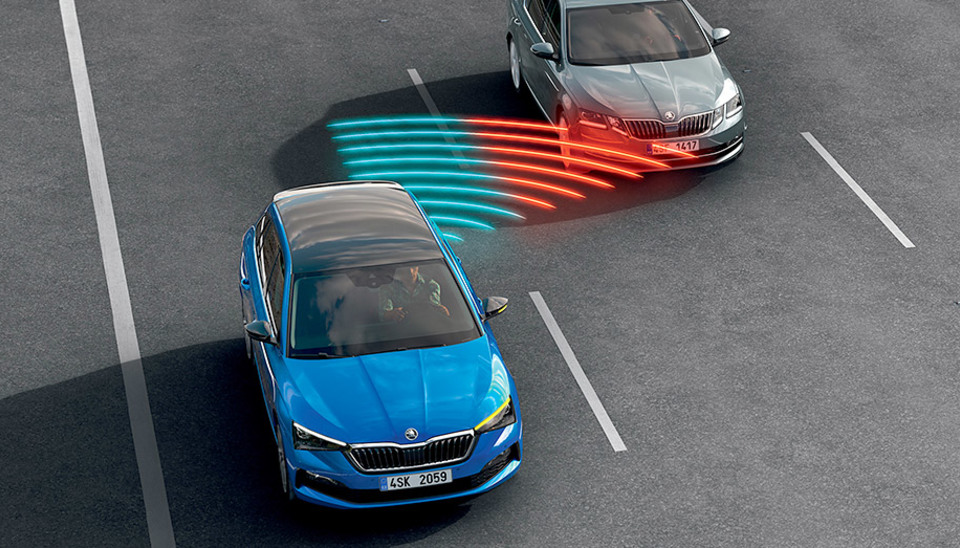 Scala Safety features
Side Assist - Blind Spot Detection
The new SCALA sees things you don't. Side Assist (Blind Spot Detection) ◊, standard in launch edition only, helps you change lanes safely by letting you know when a vehicle is in your blind spot. If so, an LED symbol in the side mirror will light up, and start flashing once you indicate.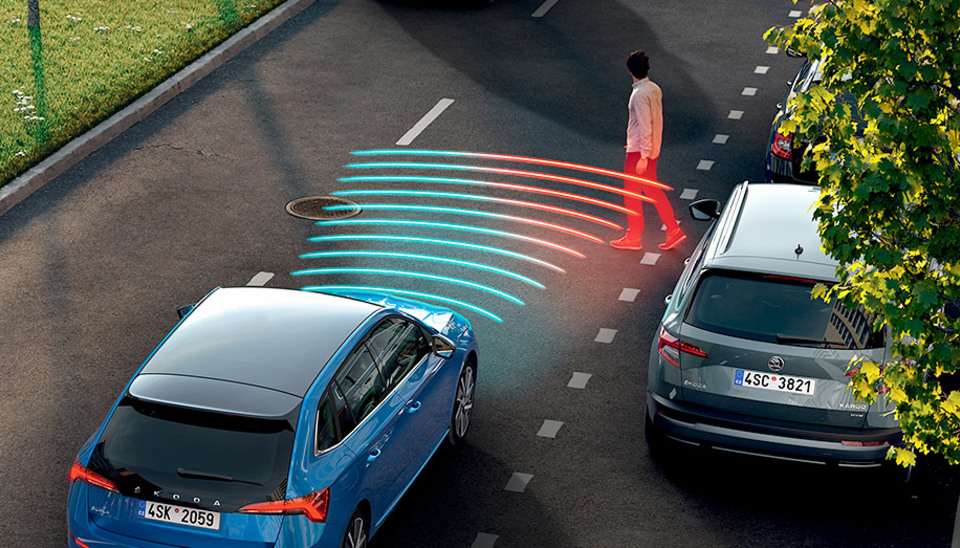 Scala Safety features
Front Assist with Predictive Pedestrian Protection◊
A backseat driver you'll appreciate. Predictive Pedestrian monitors the space in front of your car to let you know when a pedestrian is dashing in front of you. If you can't react in time, the car will automatically brake, or even stop altogether to help avoid a collision. Making the roads safer for you and every pedestrian on their phone.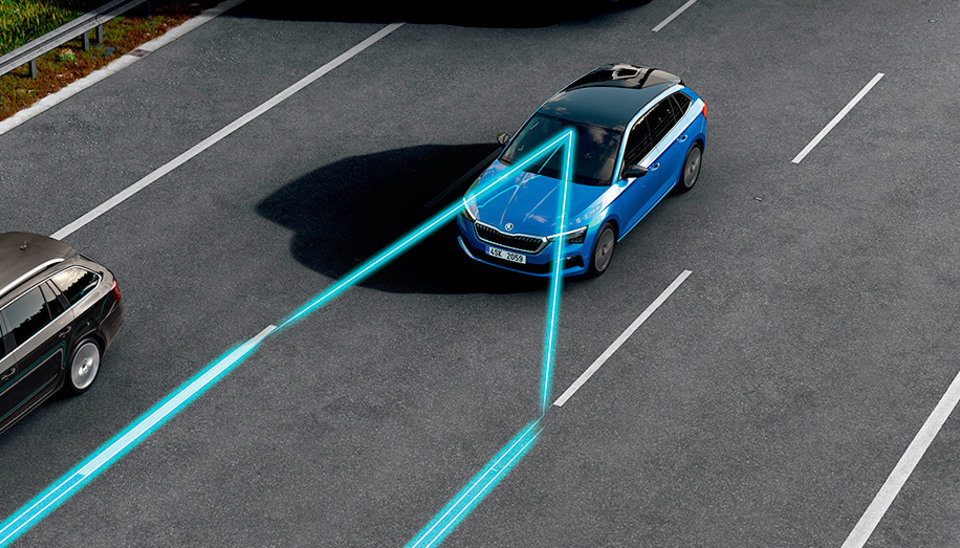 Scala Safety features
Lane Assist
To veer is human. Lane Assist ◊ uses a camera positioned within the rear-view mirror unit to actively recognise lane markings and, if you begin to stray, take corrective action to gently steer you back on course. It will also send audible and visual messages if you need to take additional action.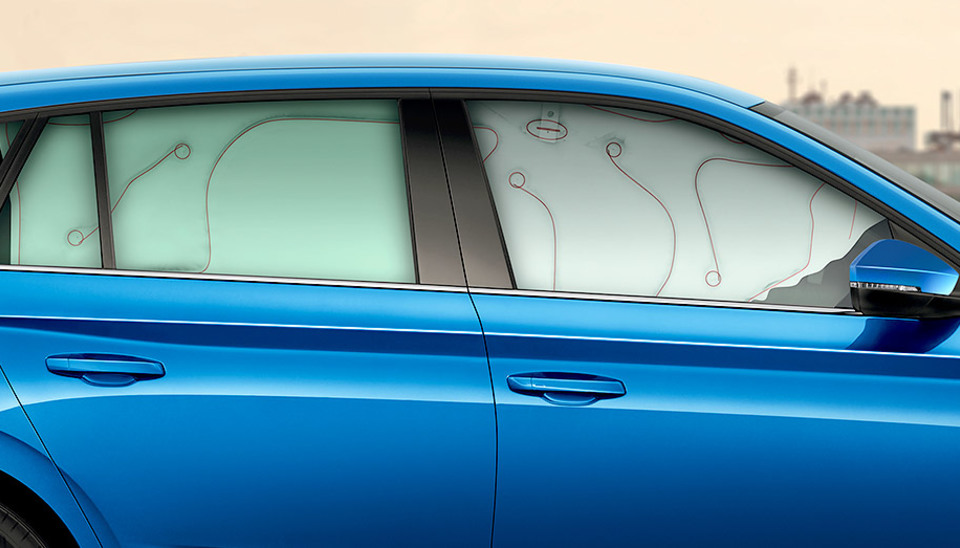 Safety without compromise
7 Airbags
We hope you never need the seven airbags that come standard in every SCALA. Located at the front, front side, rear side, curtain and driver's knee area, they help protect you and your loved ones in the event of a collision.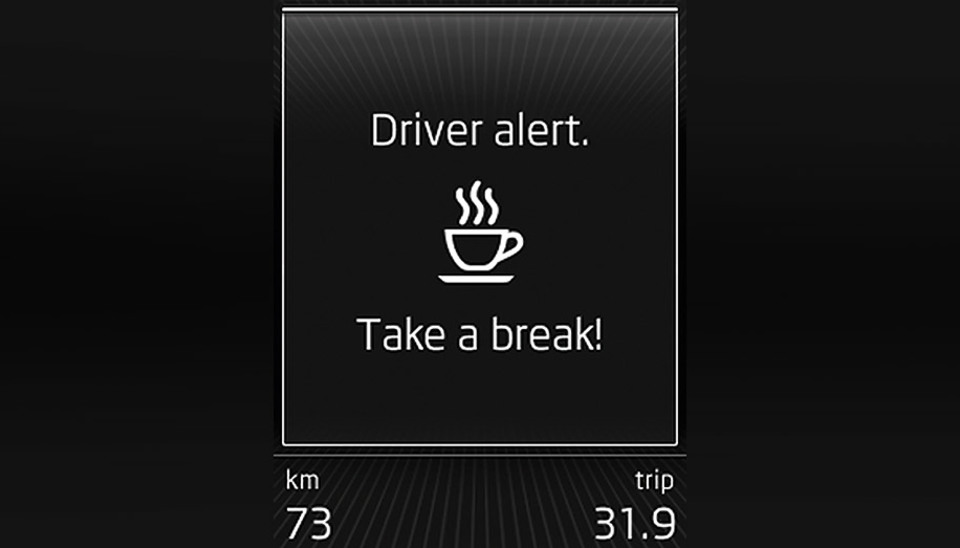 Safety without compromise
Fatigue Detection
Our engineers have developed a hands-on approach to help identify driver fatigue. Fatigue Detection◊ monitors your movement through the steering wheel. If it senses signs of fatigue, it triggers an audible and visual warning alerting you that you need to stop and rest.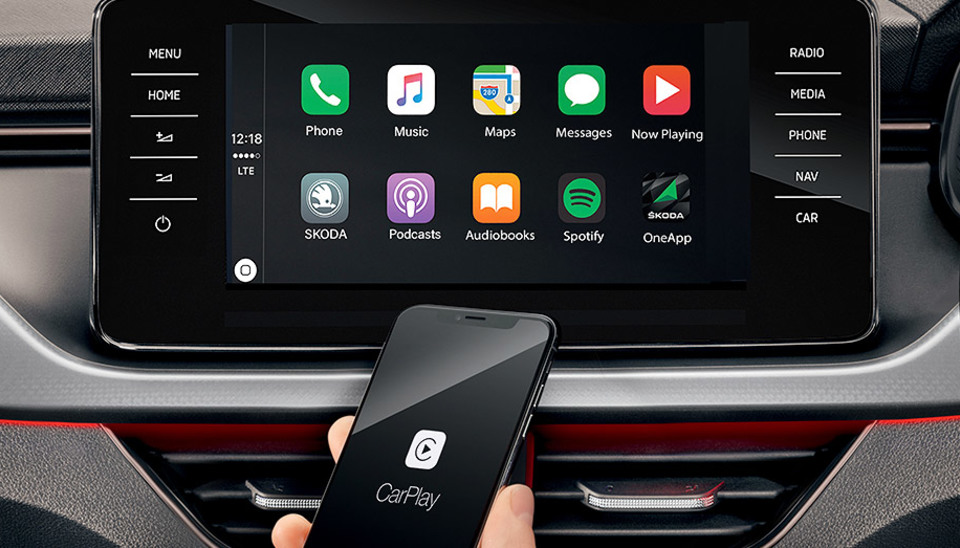 Scala Monte Carlo Technology Features
Wireless Apple Carplay
Combining our smart car with your smartphone was always going to be a good idea. Wireless Apple CarPlay+ seamlessly connects compatible apps from your smartphone to your SCALA. So, whether you want to listen to music or receive turn-by-turn directions, you can do it all without touching you phone. Smartphone Connectivity for Android Auto™ is available through cable connection.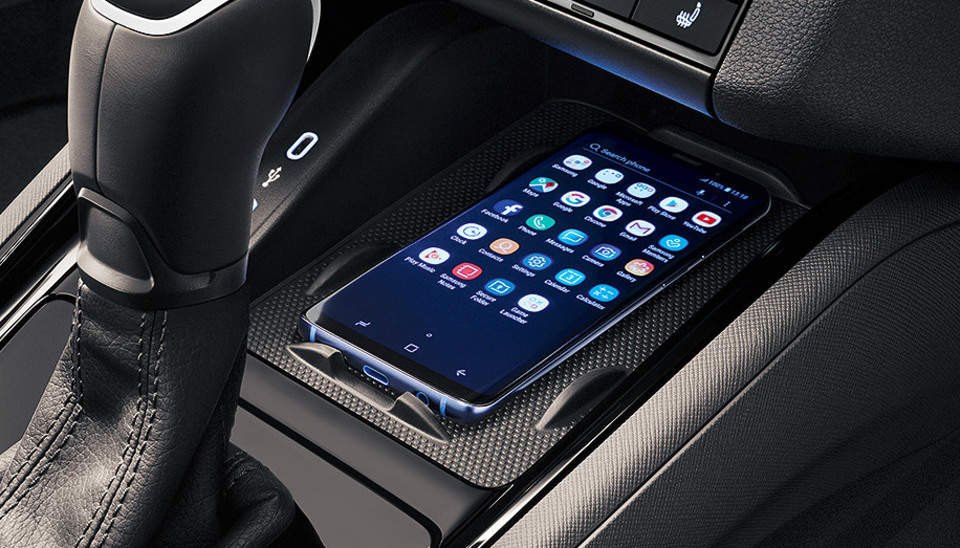 Scala Technology Features
Wireless Charging
No cables, no worries. Now with the QI Wireless charging in the centre console, you'll never get caught with a flat smartphone.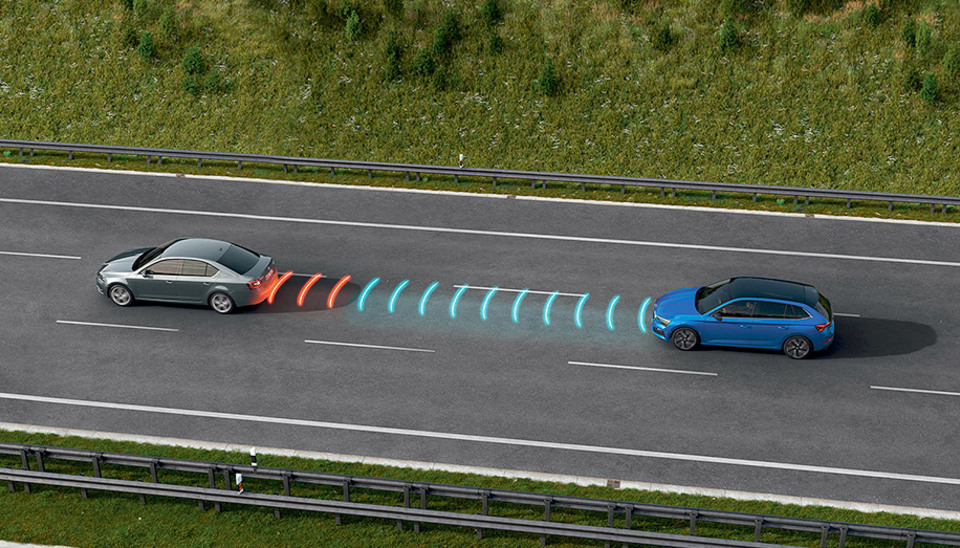 Scala Monte Carlo Technology Features
Adaptive Cruise Control
Just when you thought cruise control couldn't get any smarter. Adaptive Cruise Control (ACC)◊ features a radar sensor on the front grille which monitors the vehicle(s) ahead, allowing it to automatically brake and accelerate to a speed and distance set by you – ensuring a safe buffer between you and the car in front.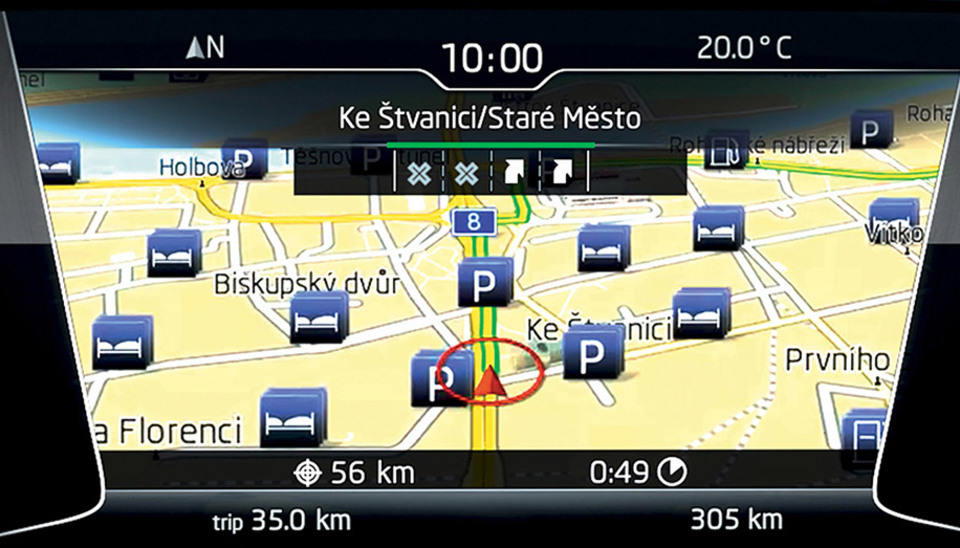 Scala Monte Carlo Technology Features
Virtual Cockpit
All that important information, which used to be shown on your dashboard gauges, is now brought to life in a dynamic display. This driving data includes, speed and fuel readouts – along with more contemporary features, like driver assist and navigation tools.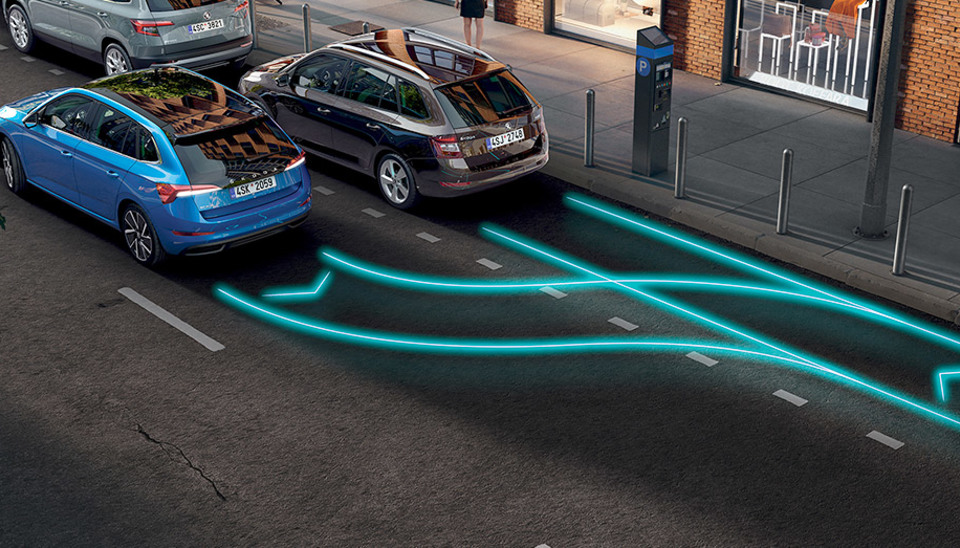 Scala Monte Carlo Technology Features
Automatic Parking Assist
Parking doesn't get any easier than this. With a press of a button, Automatic Parking Assist◊ will begin searching for a parking space in a line of cars or other obstacles. When found, the car will steer itself into the space while you simply control the pedals. How's that for assistance?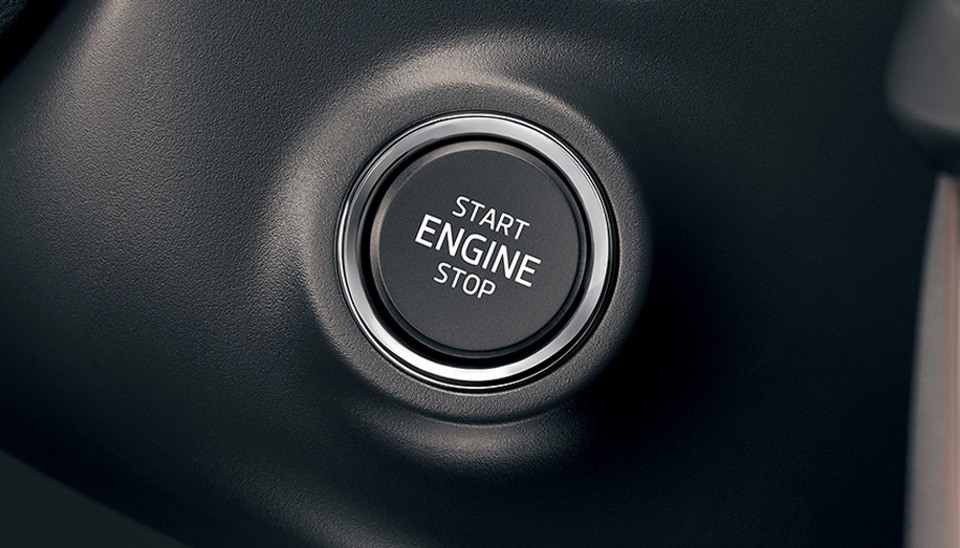 KESSY - Advanced Keyless Entry
A car that gets the door for you? Now that's service. KESSY can be added so you can lock and unlock your car and start and stop the engine without having to insert or even handle the key.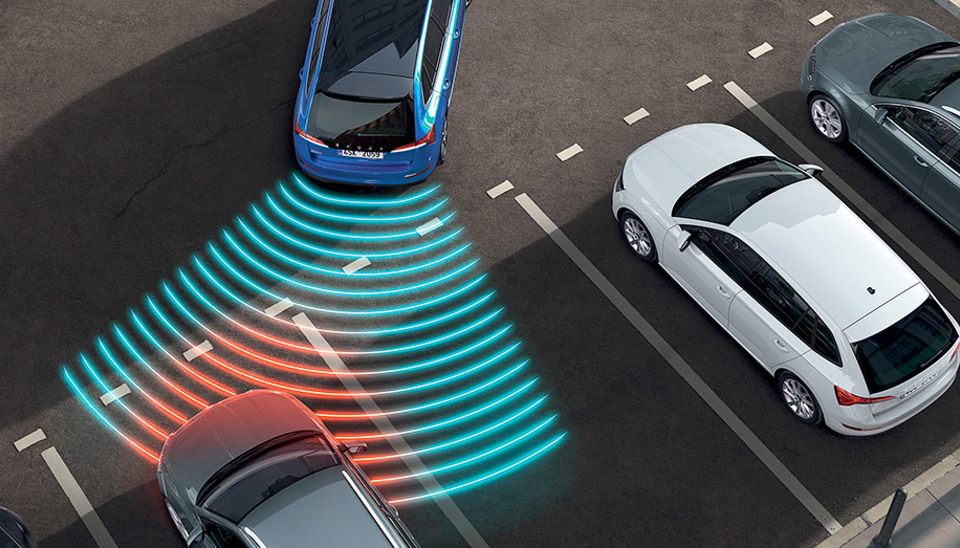 Rear Parking Sensors
Gone are the days when your passenger had to get out to help you park. Enjoy ultrasonic sensors in the rear bumper that alert you with an acoustic signal that shortens as you near an obstacle, as well as visual feedback via the infotainment unit.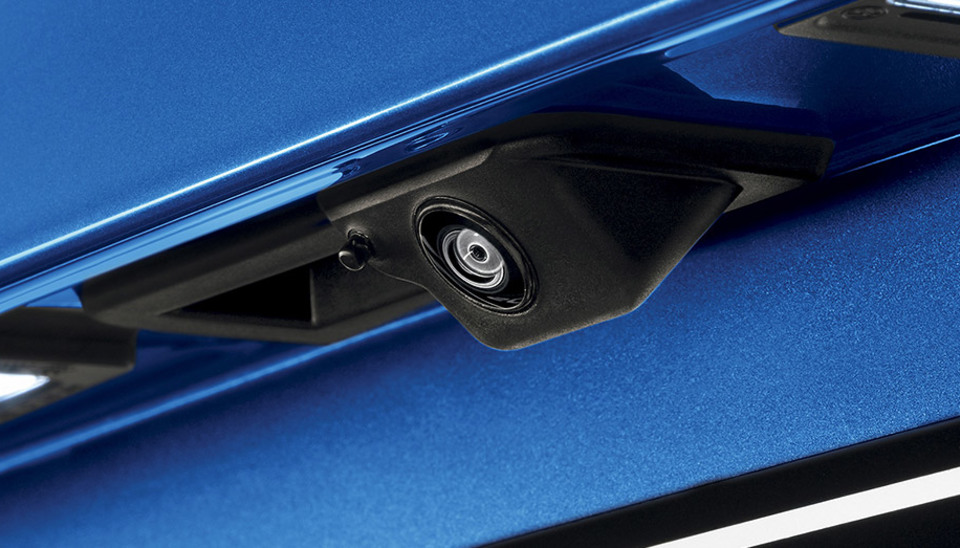 Rear View Camera
Some forward thinking for when you're going backwards. The Rear View Camera ◊ engages as soon as you choose reverse and the picture is shown on the infotainment display. While dynamic guidelines help steer you in any tricky parking situations.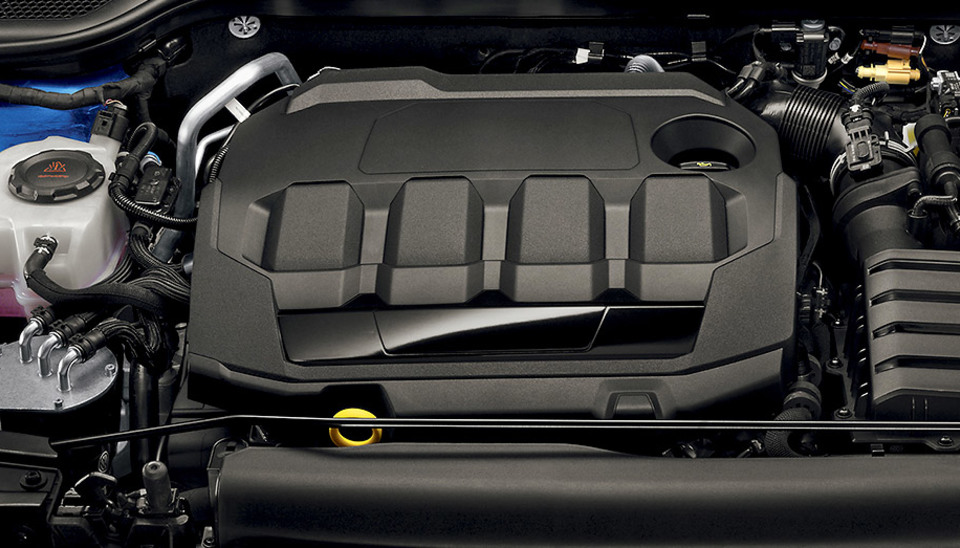 Scala Monte Carlo Engine Features
Turbocharged Engine
Now, let's talk about what's behind that pedal. Modern turbocharged engine with direct fuel injection – petrol TSI. Save fuel while retaining driving dynamics. And thanks to the turbocharging, there's plenty of power in low RPM, where the engine is most commonly used.
Simply Clever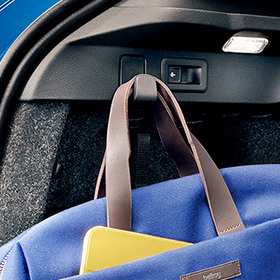 Luggage Hook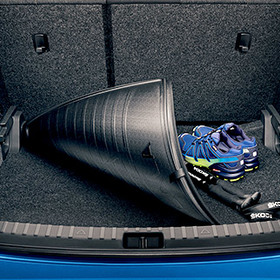 Double Sided Mat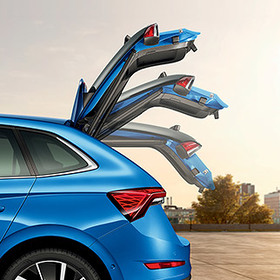 Auto Tailgate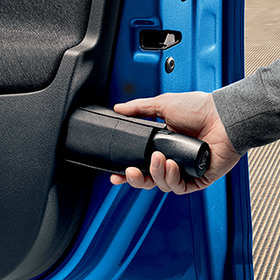 Umbrella in Door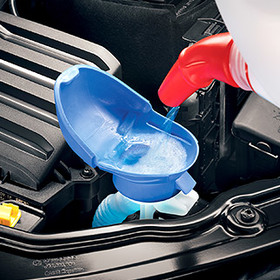 Windscreen Washer Funnel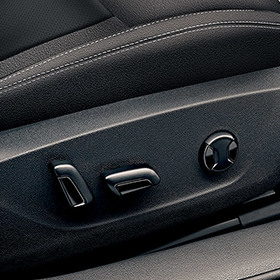 Electrically Adjustable Driver Seat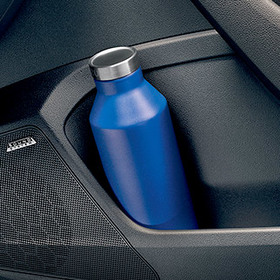 1.5L Bottle Holder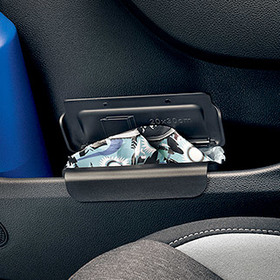 Waste Bin
Engines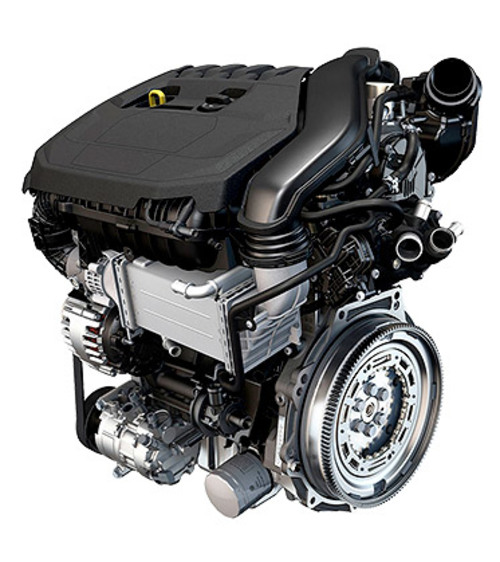 1,5 TSI
110kW 7-sp DSG
8.3 s to 100 km/h
Acceleration
250
Max Torque
127 g/km
CO2 Emission
7-sp DSG
Transmission
1,5 TSI
110kW 7sp auto
8.2 s to 100 km/h
Acceleration
250
Max Torque